Responsibilities during the research process
During the research process you will have some key responsibilities which you will need to manage. Your supervisor will also have responsibilities during the research process. It is important to remember that the primary responsibility for the management of your learning rests with you. Being aware of the supervisor-student relationship will help prepare you and help you get the most out of your meetings.
Your responsibilities
Watch the following to identify what your responsibilities are:
Your Supervisor(s) responsibilities
You may have met your supervisor's already. They will play a crucial role in guiding you through your study. It is important to be honest in the student-supervisor role. Part of doing this is to understand what you need from a supervisor. You are expected to do a lot of work yourself. It is good to establish how often you will meet and set tasks to complete between meetings. Take notes during your meetings so you can refer back. This relationship is crucial and it is part of your job to handle this well.
Watch the following to identify what your supervisor responsibilities are:
More information and guidance is available in your Student Handbook and PGR Handbook.
The University and you
There are a number of University organisations and websites that you can make use of while at Southampton. They fall in to two categories; Resources to help you as a researcher and resources to support you as a student.
Resources: the University and you 
Please click on the image below for an interactive graphic (opens in a new window):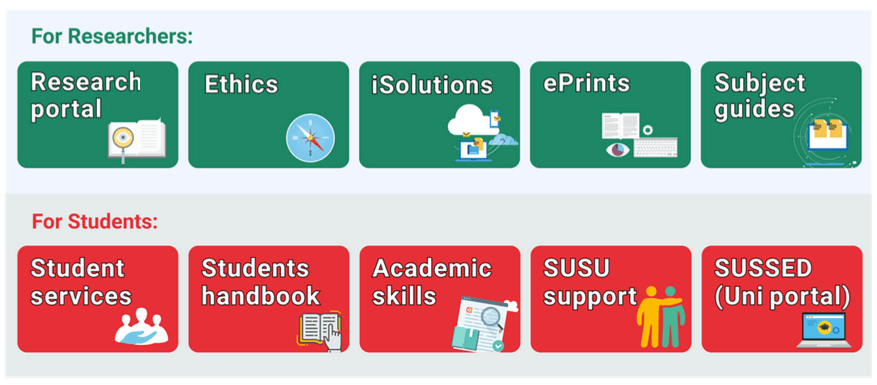 Resources to help you as a researcher

Research Portal – Research and Innovation Services provide information and resources such as funding, ethics, integrity, governance and engagement. It is a tool you will need during your research lifecycle.

Ethics – The University of Southampton has an Ethics Policy and is committed to carrying out its research, teaching, enterprise and other activities within a comprehensive ethical framework.

iSolutions – IT help and support to students, staff and researchers. Audio-visual services, a virtual learning environment, workstations, and Internet cafes, email and web services, high-performance computing and data storage and backup.

ePrints – The University's Research Repository, containing details of our research output. Staff are required to submit published papers to the repository. ePrints is a good starting point when looking for publications by our researchers.

Library Subject Guides – The Library Subject Guides are designed to direct you to the most useful resources for your subject area, and show you how to make use of them. This includes key databases, Skills for Success and a link to your subject librarian.

 

Resources to support you as a student

Student Services – Facilities provided by Student Services include information relating to accommodation issues, money issues, student support and wellbeing, administration issues and careers services.

Student Handbook – Your subject handbook will provide you with vital information throughout your degree. This includes key locations, important contacts, things to remember, what is expected of you and where to go for help.

Academic Skills – The Academic Skills LibGuide has a range of resources that will assist with your academic skills helping you to be a successful student in lectures, seminars, research, essay writing and examinations.

SUSU Support – SUSU is the University of Southampton Students' Union, it is the body which represents students studying at the University of Southampton. SUSU offers support on finance, housing and academic advice.

SUSSED the University portal – Sussed portal is a secure service for staff and students providing access to internal news, events and further links within the University.
Motivation
Briefly, intrinsic motivation refers to internal factors that motivate us. This can be doing something for the fun of it because we are interested or passionate and excited about it. In our research, we want to contribute to the field and become an expert. Being intrinsically motivated therefore is an important motivator in sustaining you through those difficult, confidence-sapping and frustrating periods.
Extrinsic motivation refers to external factors that motivate you and these tend to be tangible rewards rather than doing something just for the fun of it. An example of extrinsic motivation could be the lure of getting an interesting job at the end of your degree. You may feel that with this qualification you have better opportunities and along the way develop additional personal and professional transferable skills that you can offer a potential employer. There is of course an overlap between intrinsic and extrinsic motivation and it is in no way a clean dichotomy. However, a successful research student needs to be well motivated both intrinsically and extrinsically. The important thing is whether your strategy keeps you motivated, not whether other people agree with you.
Keeping motivated
Your level of motivation will affect your chances of success. There will be times when you do not feel like studying, or reading the paper(s) you have set for that day, or you start thinking you should be doing something different. At times like this, you will need strong motivation to keep going. For further guidance on keeping motivated read this article: 5 ways to motivate yourself to study a boring subject and/or complete a project.
Where does your dominant motivation lie?
Now think about your personal situation (consider these external motivation factors). How do you think the following can influence your motivation (negatively and/or positively)?
Age
Personal relationships
Having children
Being a carer
Method of payment (you are paying, your company pays, your family pays or you have a scholarship etc.)
Studying full time or part time
International or home student
Can you add to this list? Why not make a list of things in your life which can influence your motivation. Keep this to hand and when you\'re not highly motivated take a look at this list and see what might be influencing your motivation (negatively and/or positively).
Setting and reviewing SMART learning goals
A tried and tested method of achieving set goals is to produce action plans for change. Setting SMART learning goals can help with your motivation and will identify at an early stage any obstacles in the way of you achieving your goal. They should be SMART learning goals, please click on the image below for an interactive graphic explaining SMART goals: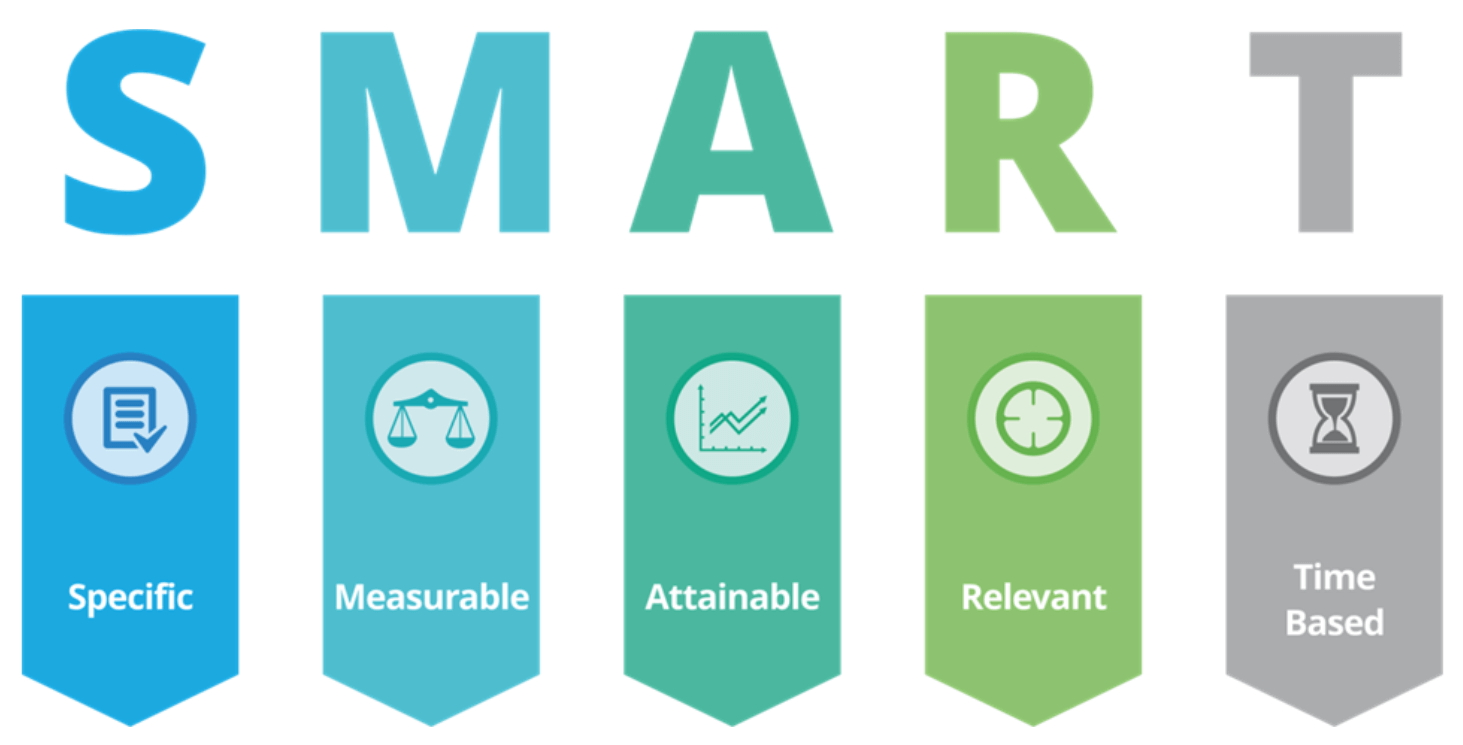 Specific: If a goal is written in general terms, you will have only a vague idea of what you are aiming towards. The goal expressed as, \"I want to manage my time better\", can at first reading appear to be specific, but if it is written as, \"I want to produce a daily list of study task priorities and review them on a weekly basis\", it is much more tightly defined and that it will certainly be clear if you have achieved it or not. 

Measurable: The goals should be tangible so you can evidence on completion. A goal such as, \"Read guidance on writing essays\", cannot be assessed as it is too general.

A measurable example is: \"Read guidance on University website about writing essays and then write a summary of key points.\" Here, the summary would indicate that you in fact did read the information; it would allow you to evaluate your understanding and how well the goal was achieved. 

Achievable: Goals need to be relevant to your current situation, and expressed in small steps. The goal \"I will produce a revision plan to increase my exam marks by 15%\", may not be attainable if you do not have information about how to improve your marks… What you can do is write the goal as several smaller steps: \"I will gather specific comments from tutors about my exam essay structure\". \"I will ask questions about the feedback on my performance". \"I will produce a revision timetable to identify priorities". "I will review my revision plan on a daily basis". 

Realistic: It is a pointless to produce any goal that you have no intention of pursuing. You must commit to investing your time in order to meet your goals. You also need to ensure that any goal is within your capability. So a goal that targets development of specific programming skills when you have no particular need or interest in this area, is not at all likely to be met. 

Time frame: Goals need target dates that are realistic. You will need to be realistic about the amount of time needed to achieve each goal. It is also helpful to have an ongoing process to remind yourself about goals (perhaps on a diary or a notice on your laptop), and then to complete a review of progress against goals. This process of review should act as a motivator.
ACTIVITY Have a go at creating some SMART learning goals. Use the following template to help you create your goals. 
The next section looks at the research process, what it is, what it involves and what research study skills are.