The choice of qualitative or quantitative approach to research has been traditionally guided by the subject discipline. However, this is changing, with many "applied" researchers taking a more holistic and integrated approach that combines the two traditions. This methodology reflects the multi-disciplinary nature of many contemporary research problems.
In fact, it is possible to define many different types of research strategy. The following list (Business research methods / Alan Bryman & Emma Bell. 4th ed. Oxford : Oxford University Press, 2015) is neither exclusive nor exhaustive.
Clarifies the nature of the problem to be solved
Can be used to suggest or generate hypotheses
Includes the use of pilot studies
Used widely in market research

Provides general frequency data about populations or samples
Does not manipulate variables (e.g. as in an experiment)
Describes only the "who, what, when, where and how"
Cannot establish a causal relationship between variables
Associated with descriptive statistics

Breaks down factors or variables involved in a concept, problem or issue
Often uses (or generates) models as analytical tools
Often uses micro/macro distinctions in analysis

Focuses on the analysis of bias, inconsistencies, gaps or contradictions in accounts, theories, studies or models
Often takes a specific theoretical perspective, (e.g. feminism; labour process theory)

Mainly quantitative
Identifies measurable variables
Often manipulates variables to produce measurable effects
Uses specific, predictive or null hypotheses
Dependent on accurate sampling
Uses statistical testing to establish causal relationships, variance between samples or predictive trends

Associated with organisation development initiatives and interventions
Practitioner based, works with practitioners to help them solve their problems
Involves data collection, evaluation and reflection
Often used to review interventions and plan new ones

Focuses on recognised needs, solving practical problems or answering specific questions
Often has specific commercial objectives (e.g. product development)
Approaches to research
For many, perhaps most, researchers, the choice of approach is straightforward. Research into reaction mechanisms for an organic chemical reaction will take a quantitative approach, whereas qualitative research will have a better fit in the social work field that focuses on families and individuals. While some research benefits from one of the two approaches, other research yields more understanding from a combined approach.
In fact, qualitative and quantitative approaches to research have some important shared aspects. Each type of research generally follows the steps of scientific method, specifically: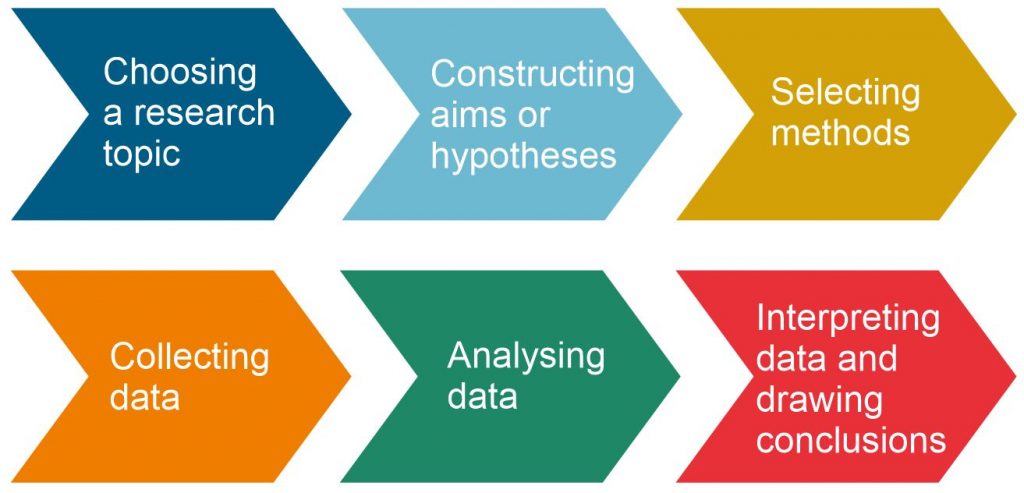 In general, each approach begins with qualitative reasoning or a hypothesis based on a value judgement. These judgements can be applied, or transferred to quantitative terms with both inductive and deductive reasoning abilities. Both can be very detailed, although qualitative research has more flexibility with its amount of detail.
Selecting an appropriate design for a study involves following a logical thought process; it is important to explore all possible consequences of using a particular design in a study. As well as carrying out a scoping study, a researchers should familiarise themselves with both qualitative and quantitative approaches to research in order to make the best decision. Some researchers may quickly select a qualitative approach out of fear of statistics but it may be a better idea to challenge oneself. The researcher should also be prepared to defend the paradigm and chosen research method; this is even more important if your proposal or grant is for money, or other resources.
Ultimately, clear goals and objectives and a fit-for-purpose research design is more helpful and important than old-fashioned arguments about which approach to research is "best". Indeed, there is probably no such thing as a single "correct" design – hypotheses can be studied by different methods using different research designs. A research design is probably best thought of as a series of signposts to keep the research headed in the right direction and should not be regarded as a highly specific plan to be followed without deviation.
Research models
There is no common agreement on the classification of research models but, for the purpose of illustration, five categories of research models and their variants are outlined below.
A physical model is a physical object shaped to look like the represented phenomenon, usually built to scale e.g. atoms, molecules, skeletons, organs, animals, insects, sculptures, small-scale vehicles or buildings, life-size prototype products. They can also include 3-dimensional alternatives for two-dimensional representations e.g. a physical model of a picture or photograph.

In this case, the term model is used loosely to refer to any theory phrased in formal, speculative or symbolic styles. They generally consist of a set of assumptions about some concept or system; are often formulated, developed and named on the basis of an analogy between the object, or system that it describes and some other object or different system; and they are considered an approximation that is useful for certain purposes. Theoretical models are often used in biology, chemistry, physics and psychology.

A mathematical model refers to the use of mathematical equations to depict relationships between variables, or the behaviour of persons, groups, communities, cultural groups, nations, etc.

It is an abstract model that uses mathematical language to describe the behaviour of a system. They are used particularly in the natural sciences and engineering disciplines (such as physics, biology, and electrical engineering) but also in the social sciences (such as economics, sociology and political science). Types of mathematical models include trend (time series), stochastic, causal and path models. Examples include models of population and economic growth, weather forecasting and the characterisation of large social networks.

Mechanical (or computer) models tend to use concepts from the natural sciences, particularly physics, to provide analogues for social behaviour. They are often an extension of mathematical models. Many computer-simulation models have shown how a research problem can be investigated through sequences of experiments e.g. game models; microanalytic simulation models (used to examine the effects of various kinds of policy on e.g. the demographic structure of a population); models for predicting storm frequency, or tracking a hurricane.

These models are used to untangle meanings that individuals give to symbols that they use or encounter. They are generally simulation models, i.e. they are based on artificial (contrived) situations, or structured concepts that correspond to real situations. They are characterised by symbols, change, interaction and empiricism and are often used to examine human interaction in social settings.
The advantages and disadvantages of modelling
Take a look at the advantages and disadvantages below. It might help you think about what type of model you may use.
The determination of factors or variables that most influence the behaviour of phenomena
The ability to predict, or forecast the long term behaviour of phenomena
The ability to predict the behaviour of the phenomenon when changes are made to the factors influencing it
They allow researchers a view on difficult to study processes (e.g. old, complex or single-occurrence processes)
They allow the study of mathematically intractable problems (e.g. complex non-linear systems such as language)
They can be explicit, detailed, consistent, and clear (but that can also be a weakness)
They allow the exploration of different parameter settings (i.e. evolutionary, environmental, individual and social factors can be easily varied)
Models validated for a category of systems can be used in many different scenarios e.g. they can be reused in the design, analysis, simulation, diagnosis and prediction of a technical system
Models enable researchers to generate unrealistic scenarios as well as realistic ones

Difficulties in validating models
Difficulties in assessing the accuracy of models
Models can be very complex and difficult to explain
Models do not "provide proof"
The next section describes the processes and design of research.