Social Programme
We are happy to offer you lots of opportunities to network, enjoy each other's company and get to know Southampton a little bit better.
Welcome drinks reception
Join everyone to say hello and welcome! This evening drinks reception is included in your conference fee and will be held in the university's Garden Court (where you will register/eat lunch). This reception is kindly sponsored by the VEO Europa project and there will also be an opportunity to learn more about the VEO App and have a play with it on iPads.
Drinks and nibbles at Southampton City Art Gallery
On Thursday 24th August, we will hold an evening reception at the Southampton City Art Gallery, which is located in the centre of Southampton. Chat to your colleagues and make new contacts as you wander the gallery enjoying the pictures! This event is kindly sponsored by Modern Languages and Linguistics at the University of Southampton.
Conference dinner
The conference dinner will take place at St Mary's Football Stadium, near the city centre, on Friday 25th August. St Mary's Football Club is one of the top football teams in the country and are in the UK's premier league. The dinner will take place in the Mike Channon suite and will include the opportunity to see the pitch (and take some photos!). There will also be a ceilidh band to teach us some Scottish dancing! If you would like to attend the conference dinner, please add it to your basket upon conference registration.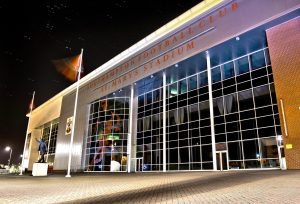 Stadium tours (pre-conference dinner)
If you have booked the conference dinner and you are interested to know more about what it is like 'behind the scenes' at a premier league football club, then you should take one of our stadium tours. Tours will last half an hour and you will get close to the pitch, the players' areas and other parts of the stadium spectators usually do not see. Tours are run by the Saints Foundation, a charity related to the football club and should be booked at time of registration (£9.00 per person). Places are limited so book quickly!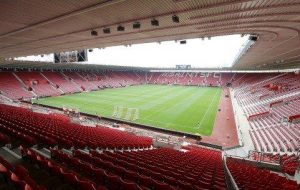 Discount joint tickets to Seacity Museum and Tudor House
In collaboration with Southampton City Council, we are pleased to be able to offer a special discounted joint ticket to the Seacity Museum and Tudor House museum. Seacity was established in 2010 and it tells the story of Southampton and its maritime past. It is a fascinating museum which is built around Southampton's former Magistrate's Court. One of the highlights of the museum is its Titanic gallery, which tells the story of the town's association with that tragic ship. Tudor House and Garden is Southampton's most important historic building and is over 800 years old. It gives a unique insight into life in Southampton during the Tudor period. Tickets will be valid from 21st – 29th August and can be used for one entry to each museum at any time between those dates.
Photos of Seacity and Tudor House courtesy of Dan Wilson Photography/Southampton City Council.