---
For Open Access Week 2019 we created a short teaching session and Twitter thread using biscuits as an analogy for the different routes to open access. We are updating both for Open Access Week 2021 to reflect a significant change: the increased number of publisher Transformative Agreements and Open Access Memberships that allow us to offer publisher open access to all University of Southampton corresponding authors, regardless of their funder.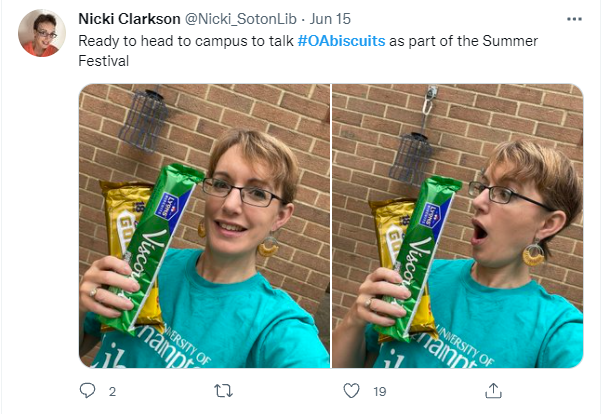 Publisher open access at no cost to the author
When you have an article accepted, we understand that you would prefer to have it open access on the journal website from the point of publication to maximise the reach and impact. Some funders allow you to build in the costs of open access publishing to your grant, and we administer funds from UKRI and Wellcome Trust that pay for publishing in fully open access journals. We do not have an institutional fund for open access payment at the University of Southampton which is why these agreements with publishers have made such a difference.
The best thing about the Transformative Agreements and Open Access Memberships is that they can be used by all researchers at the University regardless of their funder, across all faculties and career stages providing they are the corresponding author.
Transformative Agreements enable publishers to convert their subscription ('hybrid') journals to open access, with institutions paying a single fee covering the read and publish elements. Publishers still make a profit, sometimes at levels that make me very angry; we evaluate all available publisher deals, many negotiated on behalf of the UK higher education community by Jisc, and we have had to reject several because they do not represent value for money.
Every agreement operates slightly differently – some have a dashboard that we use to verify and approve articles, some are 'all you can eat' publishing, and some have national limits that affect how the agreement is used throughout the year. 'All you can eat' publishing sounds fantastic, but of course the volume of publishing from University of Southampton is factored into the cost of the agreement next time it is negotiated.
If you would like to find out more about our publisher agreements, please take a look at https://library.soton.ac.uk/openaccess/agreements or email us at eprints@soton.ac.uk
So Transformative Agreements are one big change, opening up publisher open access to all University of Southampton corresponding authors, are there any others?
Yes, but this change does not apply equally to everyone…at the moment. The main restriction to repository open access (where the authors self-archive a copy of their Author Accepted Manuscript in a subject or institutional repository) is that many publishers impose an 'embargo' of between 6 and 48 months before the repository version of the article can be made open access.
The Wellcome Trust policy on open access changed in January 2021 to enable repository open access at the point of publication, with no publisher embargo. This is done using a Rights Retention statement included in the acknowledgements section of the article by the author.
UKRI (AHRC, BBSRC, EPSRC, ESRC, MRC, NERC, STFC) are also adopting this approach, ensuring that all journal articles acknowledging UKRI funding submitted for publication after 1 April 2022 are open access from the date of publication, either in the journal or via a repository.
You can find out more about Rights Retention in our blog post published earlier this week.
How does this impact #OAbiscuits?
We have found that using different types of biscuits as a visual representation is a great way to capture attention and offer a basic introduction to open access, so we will be updating the content and tweeting #OAbiscuits2021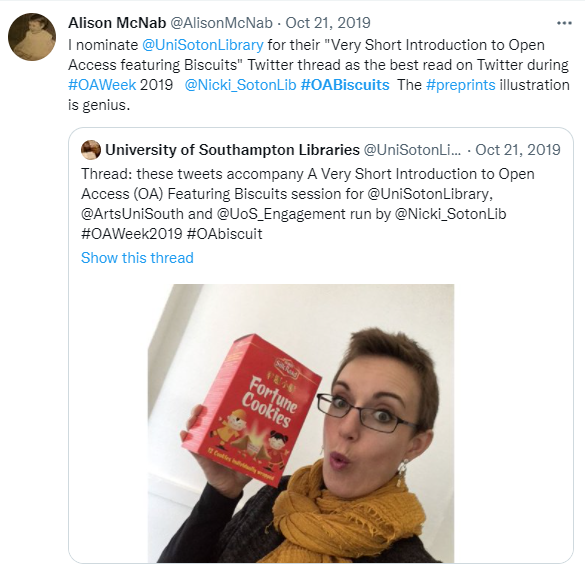 We will continue to use the terms 'publisher' and 'repository' open access in preference to 'gold' and 'green' in our continuing quest to eliminate jargon, but there is still a place for #OAbiscuits2021 because some publishers and funders do use the terms gold and green.
We will integrate Transformative Agreements and Open Access Memberships into publisher open access (gold and diamond/platinum biscuits)
We will update the messaging around repository open access (green biscuits) to reflect the changing situation of publisher-required embargoes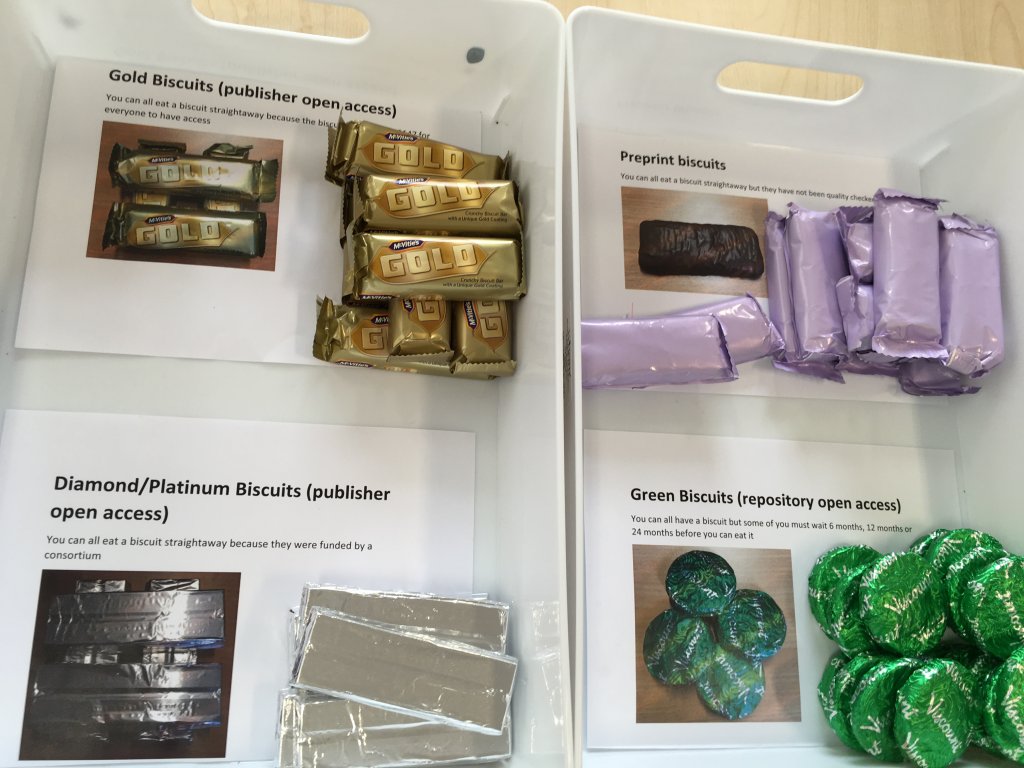 If you are at the University of Southampton and would like us to run a Q&A session for your research group on any aspect of open access publishing, please get in touch via eprints@soton.ac.uk
We look forward to hearing from you,
Nicki
Nicki Clarkson, Engagement Librarian, Open Research & Publication Practice Team
Open Access biscuits: which way does the cookie crumble?