---
By Steven Vidovic (Head of Open Research & Publication Practice) & Kerry Hadaway (Head of Content Acquisitions & Discovery)
This Open Access Week's theme is It Matters How We Open Knowledge: Building Structural Equity and we aptly brought you news of the new UKRI open access policy and how policies like it (including the Wellcome Trust policy, the forthcoming CRUK policy etc.) will affect our researchers (locally) and the users of our research. Now, at the end of this Open Access Week, we bring you news about how we are working as part of a consortium to ensure we open access to knowledge in the best way possible, with a specific example from the Elsevier negotiations.
The UK entered negotiations with Elsevier for their ScienceDirect package of subscriptions with the expressed intention of also seeking greater open access publishing and to materially reduce sector spend. Or, more specifically, we are seeking to meet the objectives of Plan S, to deliver full and immediate open access right across Elsevier's portfolio of journals in a sustainable way.
This negotiation should be of particular interest to UK researchers because Elsevier presently publish ~21% of the UK research output and only ~25% of that is published open access. Furthermore, Elsevier currently make ~37% profit and the UK is facing a ~£50m bill (see this Financial Times article). Therefore, Elsevier can be described as high cost and high volume, but up until the most recent negotiations this summer they had not offered a Transformative Agreement (TA) (https://www.coalition-s.org/plan_s_principles/) to provide access and no-additional-cost open access to the UK's readers and authors, whereas other publishers have (see our current TAs here). With >50% of UK research outputs covered by a TA, through arrangements in place with the other biggest (UK article share) commercial publishers and university presses, Elsevier remains an outlier.  
We are hopeful that a deal can be agreed upon, and the Library are engaging with Jisc to help inform their decisions, but there are no guarantees – other consortia have found it necessary to suspend negotiations, taking no deal and losing access to newly created content. Therefore, we are preparing for every possible outcome. 
This Thursday 28th October, the Russell Group, GuildHE Research, University Alliance and Million Plus have released a statement supporting the recommendation to reject the latest proposal from Elsevier and ask them to return to negotiations to seek an agreement that meets the Negotiation Team's objectives. The University of Southampton's response to the recent survey of consortium institutions by Jisc also indicated that we would reject the latest proposal from Elsevier, as we need to seek better coverage for both (read & publish) elements of the deal across Elsevier's portfolio and we need to ensure any agreement is sustainable. We did not take this decision lightly because publishing in Elsevier journals presently represents ~21-24% of our local output (depending on how you measure it).
The Library monitors publications and the amount of open access coverage to report to the institution's Open Research Group (ORG) and Research Enterprise Executive Group (REEG) – in 2020 we recorded 4,044 articles that met our requirements for inclusion in those reports, of those 842 (20.8%) were published by Elsevier, of those published by Elsevier only 200 (23.7%) were published OA on their website. In 2020, only 29 of those 200 published open access in Elsevier journals met the criteria used by the Library to determine if we could pay the associated article processing charge using one of the block grants we held at the time. Therefore, 85.5% of University of Southampton authors that were able to make their article open access on the Elsevier website did so by alternative or self-funding – this is not equitable.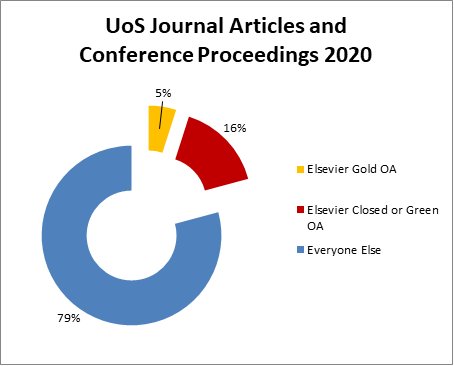 To put this in context, for the same outputs published in 2020, 48.3% were made immediately open access on the publisher's website. This means ~43% of all publications are made open access by every other publisher despite Elsevier's market share, or in other words on average other publisher's are doubling Elsevier's effort towards full and immediate open access.
From the subscriptions point of view, if we can't reach or sign up to a deal with Elsevier, we expect to retain post termination access to a backfile of content for >2k titles that make up the current Freedom Collection. For any new content or new journal acquisitions for Elsevier we would be reliant on Inter-Library Loans, Document Delivery, or alternative routes to access. The Library is working to lever more rapid delivery of content outside of our subscriptions and will provide advice and guidance depending on the outcome of the forthcoming negotiations.
It matters how we open knowledge: Elsevier