---
You may have heard that UKRI have announced their new open access policy, which takes effect for journal articles submitted from 1 April 2022, and (for the first time) long-form publications such as monographs from 1 January 2024.
We will tell you everything you need to know closer to the time, and for now we would like to remind you of the current UKRI policy for original research articles submitted to peer reviewed journals.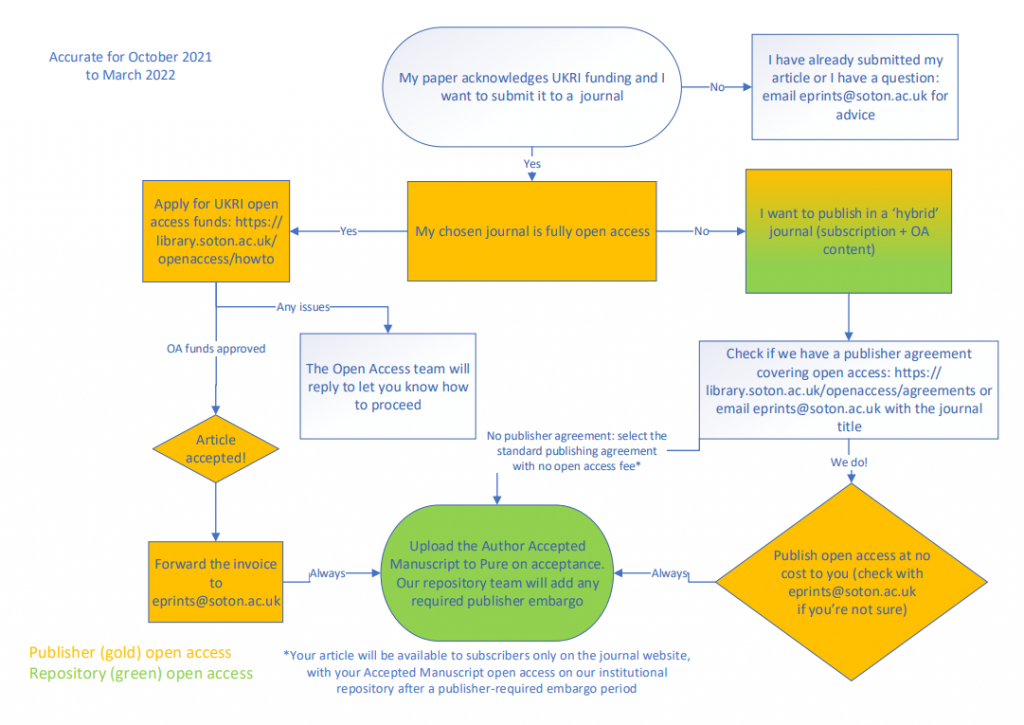 Fully open access journals
From 27th November 2020 we have been accepting applications for open access costs from our UKRI block grant for:
articles to be published in fully open access journals with a CC BY licence. We will check your application and reply to confirm that we will pay the open access invoice.
Please apply online to the UKRI block grant, managed by the Library, at the point of submission rather than acceptance. This enables eligibility to be checked and funds allocated prior to costs being incurred.
Applications for APCs must be made on or prior to submission using our online form. If the application is approved, the provisional offer will stand for 6 months, and can be extended if the paper is still undergoing the review process.
We cannot accept applications for page, colour, cover charges or any extra publication charges not related to open access.
You must select the CC BY (Creative Commons Attribution) licence as this is required by UKRI.
If your chosen journal is part of a University of Southampton publisher agreement or membership, we will let you know how to ensure your article is included and confirm that you will not receive an invoice for the open access costs.
'Hybrid' journals (containing both open access and subscription articles)
Since 27th November 2020 the Library has not approved applications to access funds to pay for publishing in hybrid journals (journals containing both open access and subscription content), unless they are covered by a 'no additional cost' transformative agreement with the publisher.
If your preferred journal is not included in our publisher agreements, you can use the traditional publishing model so that your article is only available to subscribers on the journal website, but your Accepted Manuscript is uploaded to Pure and made open access via our institutional repository, ePrints Soton. The publisher may require an embargo, a period before your Accepted Manuscript can be made open access: we will check this on your behalf. This will fulfil the UKRI open access requirements.
Please note that although most journals do not charge a fee to publish, some do have a submission fee, page charges, publication charges or colour charges that must not be paid from your grant, and will not be covered by our UKRI open access grant. If this is the case, you can ask for a waiver or choose to publish in a different journal.
Remember: always upload your Accepted Manuscript to Pure
Even if you are publishing open access in a journal, please upload your Accepted Manuscript (the post-peer review version incorporating any changes resulting from peer review) to Pure. This will ensure that you meet UKRI, University of Southampton, and future-REF open access requirements.
The current UKRI policy allows a publisher-imposed embargo on the Accepted Manuscript in an institutional policy; this is one of the key changes in the new policy (starting April 2022) and we will tell you more about that closer to the time.
Is repository open access worth it?
Researchers do download Accepted Manuscripts from repositories: the IRUS-UK portal showing statistics for 179 active UK institutional repositories has recorded a total number of 328,332,643 downloads, with 4,351,176 downloads in October 2021. IRUS-UK records the total downloads from our institutional repository, ePrints Soton, as 9,795,491. [download figures checked on 26/10/21]
Our Discovery and Visibility page has links to tools including Unpaywall and LibKey Nomad that allow you to easily find and download legal open access copies of journal articles.
As always, please contact us if you have any questions: eprints@soton.ac.uk
Nicki Clarkson, Engagement Librarian
UKRI open access publishing: from now to April 2022