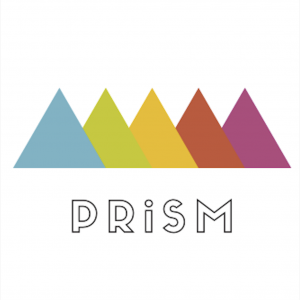 The Psychosis Research in Southampton Meet-up (PRiSM) was an event hosted by the School of Psychology in December 2019. This event was for people with lived experience of psychosis and those supporting or working with them, to discuss current and new research ideas that could be hosted by the CiMH.
The event started with a talk from organiser Dr Emma Palmer-Cooper about how the School of Psychology is working towards developing co-produced research. Emma explained that this means researchers need to work with people who have an experience of psychosis when designing research, and coming up with research ideas in the first place. It is important to hear what information would be useful to people with direct experience, whether it be about treatments, the way services are run, or understanding why people may develop psychosis in the first place. This set the scene for the rest of the event where staff and students presented research and asked for attendee feedback on ideas, methods and the way results had been interpreted.
We next had co-organiser Dr Katherine Newman-Taylor present work on how attachment theory could help us improve acute care for people with psychosis. This had considerable interest from attendees, with comments including the importance of considering how well wards are run when trying to introduce this work to inpatient care.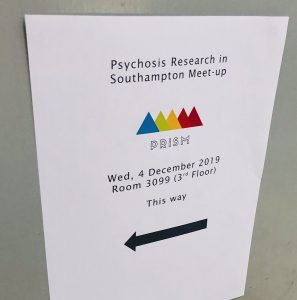 Dr Thomas Richardson sought feedback about his idea for a psychological model of why cannabis use is associated with psychosis, which includes risk factors such as trauma, family history of psychosis, cannabis strength, and age of first use. This also drew lots of interest and audience comments, including the social and conversational skills of people being interviewed in the study. Future work was suggested to investigate why people use cannabis, such as the impact of peer pressure, and if these factors can influence the model.
Next, we had had co-organiser Dr Tess Maguire proposing research into how Primary Care services (such as psychological therapy services linked to GPs) can screen for early signs of psychosis, help monitor whether people get the help they need, and see if services for depression and anxiety can be used or adapted for early intervention psychosis support. This would hopefully identify people before they required more intensive or hospital care for their distressing experiences. There was a lot of audience support for this idea, as self-referral to therapies and screening could help people get support quicker.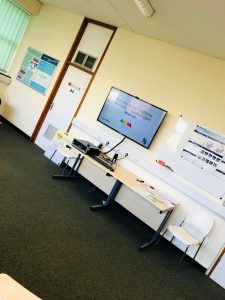 PhD Candidate Monica Sood, presented her work on how a simple cognitive task asking people to visualise a stable attachment relationship might reduce paranoia and anxiety, and improve mood and recovery outcomes for people with psychosis. This is based on the knowledge that adults experiencing psychosis often struggle with difficult thoughts and feelings in their relationships. This task could be incorporated into existing therapies or used on its own, as people see fit. This had positive support from the audience, stating that this visualisation could focus on both human and non-human relationships, or idealised relationships with fictional characters that they comforting. It was also helpful for the researchers to hear that terms such as 'attachment' may not be familiar to everyone.
The final presentation was by Dr Emma Palmer-Cooper on how 'thinking about thinking' skills can be used to make psychological therapies better. This research looked at people who have regular 'unusual experiences' such as hallucinations, but do not have a diagnosis of psychosis. It was found that these people are very good at thinking about and understanding their experiences, and do not note any distress during these experiences. This can be used to turn the focus of therapies to understanding and accepting hallucinations, rather than necessarily trying to reduce them. Audience comments focused on what counts as 'psychosis', as well as understanding cultural interpretations of hallucinations.
The event then ran an open forum for all attendees to discuss their own research interests. The discussions were dictated by the attendees, with some discussions continuing themes presented by researchers, and others proposing new ideas for discussion. Discussions focussed on how cannabis use in creative settings can be unhelpful for people experiencing psychosis, using EMDR therapy for psychosis, and how we need to focus on prevention rather than hospital admission. All ideas will be taken forward to CiMH members as potential starting points for future research or future School of Psychology engagement projects.
The PRiSM team would like to thank everyone who attended and presented at our event for their contributions, and hope to run more events like this in the future.